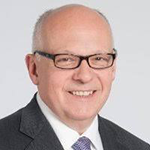 J. Stephen Jones, MD, FACS, MBA
Cleveland Clinic Lerner College of Medicine at Case Western Reserve University
Cleveland, OH
On December 1, 2014 Dr. Jones began his role as President of nine Cleveland Clinic Regional Hospitals and 18 Family Health Centers throughout Northeast Ohio. With recent mergers he now oversees 11 Hospitals and more than 20 Family Health Centers. He joined the Glickman Urological Kidney Institute in 2000, and became the Chairman of the Department of Regional Urology in 2007. Dr. Jones was Chief of Surgical Operations for the Regional Hospitals after serving in a similar role at Cleveland Clinic Fairview Hospital. He became Vice President of Regional Medical Operations in early 2014. He also serves as Professor of Surgery at the Cleveland Clinic Lerner College of Medicine at Case Western Reserve University and holds the Leonard Horvitz and Samuel Miller Distinguished Chair in Urologic Oncology Dr. Jones has served in multiple areas of CCF senior leadership, including the Board of Directors, Board of Governors, Board of Trustees, Enterprise Risk Management, Strategic Space, Capital Review, Clinical Enterprise Management, Care Affordability, and Financial Planning Committees. He Chairs the Executive Committee of CCHS, which is the delegated fiduciary board for every Regional Hospital, and is a member of each regional hospital Board of Trustees. He earned a BS in Zoology at the J. William Fulbright College of Arts Sciences at the University of Arkansas and his M.D. at UAMS. After residency at Vanderbilt University he joined the Springfield Clinic/St. John's Health System in Missouri. Under his chairmanship the Department of Urological Surgery became the highest rated community urology program in America, according to U.S. News & World Report in 1999. He has published over 200 publications in every major urological journal and authored 40 book chapters. He has presented his work on every continent and in every major urological meeting. Dr. Jones serves as Associate Editor of the American Urological Association journal, Urology Practice, and Associate Editor for Renal & Urology News. He previously presided for over a decade as Editor of Urology & Kidney Disease News, was Associate Editor of Urology, and served on the Editorial Board of BJU. He has published two books, Complete Prostate Book and Overcoming Impotence (forewords by Coach Rick Pitino and Senator Bob Dole), and is the editor of five medical textbooks. In addition, he is Chair and Primary Investigator of the International COLD registry. Status as a leading innovator in that topic, including focal and salvage therapy, was recognized by the 2009 International Society of Cryosurgery Excellence Award in St. Petersburg, Russia.
Articles by J. Stephen Jones, MD, FACS, MBA
Dr. J. Stephen Jones presented "Cryotherapy: Update on the International COLD...
Read More