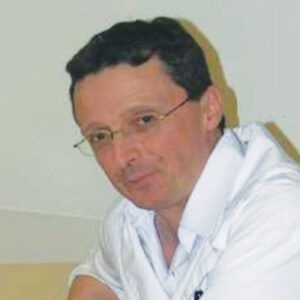 Nicolas Mottet, MD, PhD
University Hospital St. Etienne, Urology
St. Etienne, France
Professor Nicolas Mottet, MD, PhD, is Head of the Urology Department at Centre Hospitalier Universitaire de Saint-Étienne, and Professor of Surgery at Université Jean Monnet in Saint-Etienne, France. He is board-certified in surgery, urology, and medical oncology. Dr. Mottet is Chairman of the EAU Working Group on Prostate Cancer Guidelines, a board member of the Urology Group for the French Anti-Cancer Centre Federation, and a member of the SIOG Prostate Cancer Guidelines Committee. He is the former coordinator of the Testis and Penile Cancer Subgroup (French Urological Association 2000 – 2008). He has published over 160 peer-reviewed papers and made numerous presentations and lectures. He has served as a member of the Editorial Board of European Urology and as a reviewer for more than a dozen high profile journals, including the New England Journal of Medicine. Dr. Mottet sits on the scientific advisory board of several multinational pharmaceutical companies. He has coordinated or participated in more than 40 clinical trials and has received several national grants. Dr. Mottet is a member of the AUA, EAU, AFU, ASCO, ESMO, and SIOG.
Disclosures:
Talks by Nicolas Mottet, MD, PhD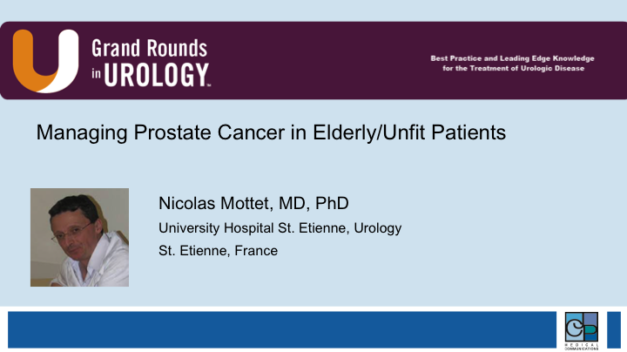 Dr. Nicolas Mottet presented  "Managing Prostate Cancer in Elderly/Unfit Patients" at the 6th...
Read More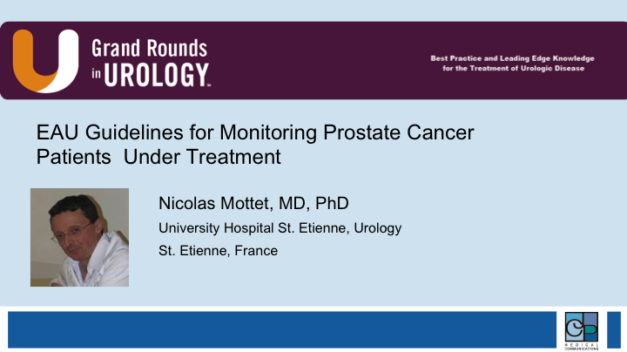 Dr. Nicolas Mottet presented  "EAU Guidelines for Monitoring Prostate Cancer Patients Under Treatment" at the 6th Symposium on the Treatment of Prostate Cancer (STOP-6), which was held in Lisbon, Portugal between October 14th and 16th 2016.
Read More