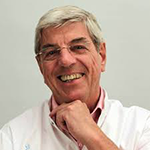 Frans M.J. Debruyne, MD, PhD
Andros Men's and Gynos Women's Health Institutes
Arnhem, The Netherlands
Professor Frans M.J. Debruyne has been Professor and Chairman of the Department of Urology at the Radboud University Medical Center Nijmegen, The Netherlands from 1981-2006. He received his medical degree in 1967 from the University of Louvain in Belgium and completed residencies in surgery and urology at St Johns Hospital in Bruges, Belgium. He finalized his urological training at the University Medical Center in Nijmegen, The Netherlands and did several clinical fellowships in Germany, the UK and Austria. In 1977 he defended his PhD thesis at the Radboud university medical school in Nijmegen, The Netherlands. Professor Debruyne was a member of the board of the Dutch Urological Association, chairman of the European Organization for Research and Treatment of Cancer Genito-Urinary (EORTC GU) Group, chairman of the European Society of Urological Research (ESUR) and vice president of the Société Internationale d'Urologie (SIU). He also was a member of the scientific - and later of the management - committee of the European Association of Urology (EAU). In 1992 he became the EAU secretary general, a function he fulfilled for more than 12 years. He also was a founding father of the European Board of Urology (EBU) and the European Association of Academic Urologists (EAAU) and has received numerous scientific and clinical awards from many different scientific organizations. He is an honorary member of many national and international urological societies and has been nominated 'Dr Hon' on several occasions in different Medical Schools. Professor Debruyne has authored or co-authored more than a thousand articles in peer-reviewed journals. He still acts as an editor in chief or (associate) editor for many urological journals and scientific publications and has contributed many chapters for urological books, a number of which he has also edited. Upon retirement from his academic functions and responsibilities (2006), he co-founded the Dutch Men's and Women's Health Clinics, a chain of diagnostic centres for urological care of the ageing population, of which he is the medical director.
Articles by Frans M.J. Debruyne, MD, PhD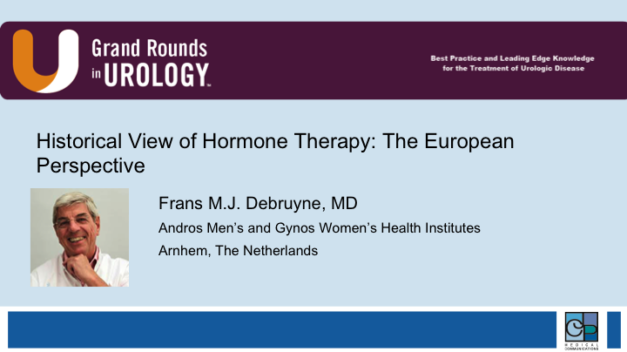 Professor Frans M.J. Debruyne  spoke at the 25th International Prostate Cancer Update on Friday,...
Read More