Patients Speak Gerald Stern: Getting Chemo: My Story
This interview, "Patients Speak Gerald Stern: Getting Chemo: My Story," is provided by Grand Rounds in Urology's content partner, Prostatepedia.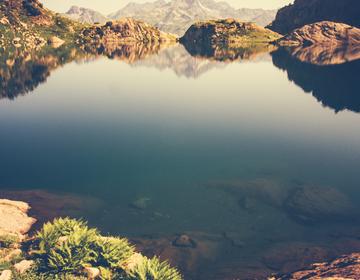 Mr. Gerald Stern talked to Prostatepedia about his experience in getting chemotherapy for prostate cancer.
What was your life like before you had prostate cancer?
Mr. Gerald Stern: I was jogging at that point, and I felt great mentally and physically. I always watched my weight and intake of food. My father died when he was 49, so that made me very sensitive to cholesterol. I married someone who was very concerned about that, so she did the cooking in the house. I was a picture of health.
How did you find out you had prostate cancer?
Mr. Stern: I was going for regular, annual examinations with my internist, and I was taking the PSA test. The next time I saw him, I asked him whether my PSA, which had jumped from 2.6 to 3.7, was significant. He told me it was not. I later learned that it was, but in any event, he told me not to worry as long as it's below 4.0. The next time I saw him, it was 4.0, and he said it was time to see a urologist. I felt I had time because he was not concerned. I waited six months before I saw  a urologist. That was early- to mid2002. On the first meeting, he did  a biopsy in his office and took  12 samples, 95% of which showed prostate cancer. I didn't even have my clothes on yet, and he broke the news to me. I was in shock and very sad. He said, "We'll have to follow up on this. It looks like it's substantial." I had a Gleason score of 7-8 (two hospitals disagreed as the same slide).
I spoke to my urologist a couple of times. He recommended a partner of his who was a local surgeon. I'm 25 miles or so from Memorial Sloan Kettering Cancer Center and Columbia Presbyterian, and I had no intentions of having surgery based on the urologist's recommendation.
I called both Memorial Sloan Kettering and Columbia Presbyterian. It was the summertime, so the medical director of Memorial Sloan Kettering was traveling. I spoke to a friend who is in the medical malpractice field as a lawyer, and I asked him if he knew anyone at Columbia Presbyterian. He did, and arranged the meeting with a top surgeon there, whom I saw right away.
Based upon the tests and the other records from the urologist, he said, "You know, it's fairly substantial. There may have been some escape from the prostate, and I am not going to remove the prostate surgically. There are reasons that you should have radiology. You should see a radiologist in our radiation department."
When I called for an appointment, they scheduled one for six months later. I decided that I couldn't wait.  I was very nervous at that point.
I was able to see Dr. Peter Scardino at Memorial Sloan Kettering.  He studied my medical records and scans, and said also he would not do surgery. He recommended a radiologist who was in charge of prostate cancer intensity-modulated radiation therapy (IMRT).
I met with another radiologist/oncologist at the hospital and he arranged the plan for the IMRT, and I went through that for 45 treatments. That was known as an aggressive dosage. As I recall, it was 48 Gray. That was towards the end of 2002, and we finished in January 2003. I listened and did whatever they wanted, and the results were great, but only for five years. When my PSA increased again in 2008, I was concerned,  and the doctor was concerned.  A biopsy showed prostate cancer. The radiologist recommended a new treatment at Memorial Sloan Kettering, which had been done  in California: High Dose Rate (HDR) brachytherapy. My doctor was doing a study of 200 patients,  and he could fit me in. I agreed and went through two or three days of the HDR brachytherapy, and the results were good for a few years.
At the Prostate Cancer Research Institute (PCRI) Patient Conference in 2011, I heard Dr. Snuffy Myers speak about the statistical evidence of PSA doubling within a few months. My PSA had nearly tripled within three months, so I waited to talk to him. I asked if my PSA went from 0.2 to 0.6, would he suspect cancer again. He said, "Yes."
He asked about my numbers,  and I told him that I went from  0.5 to 1.3 in three months. He said, "I hate to break the news to you, but you probably have cancer for the third time." I thanked him profusely for the information. I went back to New York and spoke to my doctor who said that it could be scar tissue from the previous treatment of HDR brachytherapy and that we should watch it. That was  in October 2011. Three or four months later, I learned that I had metastatic cancer that had spread to my lungs. I was hysterical at that time.
My doctor at Memorial Sloan Kettering referred me to another doctor at the same hospital and I was happy to stay there. He was calming, and he said that all of his patients suffer from advanced metastatic cancer. Based on the MRI, CAT, and bone scans I had taken shortly before, I did not have it in my bones. He thought that  was unusual, but I had it in both  my left and right lungs. He gave me Lupron (leuprolide) to see how it worked, and it did work for a while, but I still had metastatic cancer.  I understood, at that point, that there was no cure. At some point, he and I did not agree, and I decided to switch oncologists at Memorial Sloan Kettering.
I have had my current oncologist since 2013, and we have a great relationship. He listens to me;  I listen to him. We negotiate,  and I have had no treatment  other than drugs. I had Zometa (zoledronic acid), Firmagon (degarelix), and Lupron (leuprolide), and none of them have stopped the progression of the cancer.
In my left lung, I developed a nodule that was measured at 1.5. He thought that it would be wise to take that out surgically, and he referred me to a surgeon at Memorial Sloan Kettering who removed it in July 2015. He did the analysis of the nodule that he extracted, and it was prostate cancer that had metastasized to the lung. I also have had a biopsy in the right lung that confirmed that it was prostate cancer.
In 2017, my oncologist told me I would need chemo. Based upon the growth of the cancerous nodules, In December 2017, I started chemo treatments, and I had side effects.  I had dizziness for between four and seven days after each chemo  treatment. I was dizzy, and sometimes around the clock for two or three days.
Sometimes, I'd get up at 2:00 a.m. to urinate, and I had to hold on to the walls in my apartment to make it to the bathroom. But I did not want to stay in bed for the full week that I felt weak or dizzy. I went out, probably foolishly on one occasion, and I fainted when I got back to my building. I was found in the elevator. They called EMS. In any event,  I came to, and my blood pressure and the color in my face came back after about an hour. I was more careful after that. I also developed neuropathy of my toes, feet, ankles, and felt pain up to my knees. That has been an ongoing problem. I also developed  edema of my legs, which is swelling because of fluid retention. About a month later, after about the sixth chemo treatment in 2018, I was expecting a call from my wife and I jumped up from the couch when the phone rang in the kitchen. I felt very dizzy. I staggered into the kitchen, and down I went. I hit my head on the kitchen marble counter. I was laying on the kitchen floor and could not get up easily. I rolled over, and I didn't realize I was bleeding on my forearm as well. I fell on my ribs, and that took a couple of months to heal. That was the second fainting and falling.
During the first series of chemo treatments, I fell two more times without fainting, walking too quickly and, on one occasion, tripping  over a bump in the sidewalk.  I had some negative experiences, and I was not careful enough.  I would recommend to anyone else that if you're dizzy during that first week, stay home and stay in bed.  I was lethargic, tired, and nauseated  during that week, but I never threw up. I was not myself.
Even during that period, though not in that week after infusion, I would be in a gym working out, walking, or on the stationary bicycle in the morning, which I do now every day. I believe I have helped myself through physical exercise. I do physical therapy (PT) at Memorial Sloan Kettering, where I've been given homework to stabilize myself. I do specific exercises on stabilizing so that I don't fall.
From late December 2017 to June 2018, I had nine treatments of the Taxotere (docetaxel), which was successful for a while, but then my nodules in the left lobe went back to where they were. My oncologist said that we ought to start Jevtana (cabazitaxel) about nine months after I finished Taxotere (docetaxel).
In the meantime, I digested every word of the four oncologists who discussed Jevtana (cabazitaxel) in your August 2018 issue of Prostatepedia. My luck! I developed confidence in the treatment I was having based upon my relationship with my oncologist, and with those articles. I really appreciated reading the experience of the two patients who were interviewed. And based on the entire article, including the experiences of the patients and the oncologists, I learned a lot about the expected side effects of Jevtana (cabazitaxel).
Thank you for saying that. I appreciate that. What was the experience of getting the Jevtana (cabazitaxel)  like for you?
Mr. Stern: Jevtana (cabazitaxel)  has been far less of a concern  to me in terms of side effects.  I don't get dizzy at all, and that's why I was optimistic, from reading that article in your August 2018 issue. I haven't lost my hair this time, so far. I've had four treatments, and not a bit of hair has come out of my head. With Taxotere (docetaxel), I lost my  hair after the second treatment.  My face blew up from the steroids. I was not happy with myself,  and it's understandable that it affects your mental well-being. For those who would take  Taxotere (docetaxel) as prescribed, it's necessary, and I would say, go for it.
Jevtana (cabazitaxel) has been wonderful for me. I get a bit  tired. With Taxotere (docetaxel),  my white blood count went below the level that I could safely take the next chemo treatment.  My oncologist reduced the  Taxotere (docetaxel) and extended the time from two weeks to three weeks. I take Neulasta (pegfilgrastim) the day after  the chemo treatment; I have an injection. It keeps my white blood counts up and helps other readings that I need to keep up in order to have chemo. I have had no problems with neutropenia in that regard.
You're tolerating it, and you're four doses in?
Mr. Stern: Four chemos in.  The oncologist mentioned that he would like me to take nine treatments, but I suggested that I would take six. He said we'll have scans after the six and see the results.  We'll then discuss the chemo schedule.
That sounds reasonable. Are you comfortable with that?
Mr. Stern: Yes, but I'm pretty sure I'm going to stick to six. Even if I take four months' break and use the seventh, eighth, and ninth months as the first, second, and third treatments of the third series of chemo. That's my fallback position with him. I will ask him whether there's anything wrong with that logic. That's how we talk to each other. He compliments me on my logic and reasonableness.
I have two cancerous nodules  in my right lung that have reacted  extremely well to Lupron (leuprolide), and they have not changed in size  since 2015. My left lung is a problem; that's not responding to Lupron (leuprolide). That's primarily why we did the chemo. The oncologist would like to rule out lung cancer in the top rear of the lung. He sent me to a pulmonologist at Memorial Sloan Kettering, and he and I had  a wonderful conversation. I thought he was persuaded by my indication that it was prostate cancer and not lung cancer. And he conceded that the nodule would not have reacted well to Taxotere (docetaxel) if it were a lung cancer.
My oncologist and I agreed to hold  off on doing a biopsy. My oncologist had sent me to another surgeon. He's called a radiation specialist who does the biopsies. He said to me that it was a risky situation, based upon the placement of that nodule. I told my oncologist I appreciate his scientific background, and that he wants to know for sure whether that one nodule is lung cancer, but I don't. He agreed not to pursue the point based upon my strong feelings. That particular nodule was reduced to 50% by the Taxotere (docetaxel). The pulmonologist at Memorial Sloan Kettering said to me that it wouldn't have reduced it if it were lung cancer. That's a strong indication that it is not lung cancer. I've had biopsies in my right and left lungs, and they all turn out to be prostate cancer.
The plan is to finish up the chemo,  do the scans after six infusions, and then decide on the three more? Then just monitor?
Mr. Stern: We haven't met yet. We're going to talk in late August, after I have the six treatments, the PET scan, and the CAT scan. We'll see what the results were from the Jevtana (cabazitaxel). My fallback logic is that we should wait a few months. I need to wait for a few months because I fear that my worst side effects with Taxotere (docetaxel) had occurred during the seventh, eighth, and ninth treatments. I would just as soon skip the cumulative effect of the chemo and the more serious side effects.
I've had four treatments, and I feel pretty good after a few days. I get three or four days of slight nausea and tiredness, but again, no dizziness whatsoever. I'm active. I'm in the gym every single morning. If the nodules get bigger again after a while, I would be open to another round of Jevtana (cabazitaxel).
Do you have any advice for other men?You mentioned taking it a little bit easier after Taxotere (docetaxel), but any other advice for men who have been prescribed either of these agents  or who are already going through chemo?
Mr. Stern: With Taxotere (docetaxel), I believe I had substantial side effects. A patient need not have the same side effects I have or as serious. It may be that it is much better for them than it was for me. Just endure. Regardless, when chemo is called for, I'd strongly recommend doing it. The side effects may be as severe as mine were, but really it's very tolerable.
I am happy that I went through the first nine treatments of chemo with Taxotere (docetaxel). For about six months, I saw the reduced size of the cancerous nodules, and I was very pleased. I regained my strength and felt great during those nine months before I started Jevtana (cabazitaxel).  With four treatments of Jevtana (cabazitaxel) so far, I've had mild side effects. I'm pleased with the side effects so far. I'm pleased with the total treatment plan at Memorial Sloan Kettering, including the first nine treatments in 2017-18.
A patient should carefully choose a cancer center. I was fortunate  to have some major cancer centers 25 miles from my home. I feel very lucky. I'm 84, I try to walk at least  a mile every day, I'm on the stationary bike in the mornings, and I do weights. I do my exercises that are prescribed by my PT. I'm getting more and more stable on my legs. I don't need a cane, and I'm feeling very good. After all these chemo treatments,  I feel that I'm doing well.
View this interview on the Prostatepedia website or leave a comment here.